What is an X-Ray?
The process of producing an X-ray image involves the use of ionizing radiation to capture detailed pictures of the internal structures of the body. This diagnostic tool is employed extensively in the field of medicine, offering critical insights into various medical conditions.
An X-ray image, often recorded on a sensitive film or digital sensor, is created when a controlled amount of radiation passes through the body and interacts with the detection device on the other side. The key to this process is the behaviour of X-rays as they traverse through different tissues within the body. Dense tissues, such as bones, absorb more X-rays and appear whiter on the resulting image, while softer tissues, like muscles and organs, permit more X-rays to pass through, rendering them darker.
In conventional X-ray imaging, the exiting X-rays interact with a detection device, traditionally an X-ray film. This interaction results in a 2-dimensional projection image that provides a snapshot of the body's internal structures. While it may appear as a simple black-and-white image, it holds a wealth of diagnostic information that medical professionals use to identify and assess various medical conditions.
X-rays primarily focus on two areas:
Bone Imaging: X-rays are especially well-suited for visualizing the skeletal system. They are indispensable for diagnosing bone fractures, assessing joint health, and identifying bone deformities. The high contrast between bone and soft tissue makes X-rays an excellent choice for such evaluations.
Chest X-Rays: Among the most frequent examinations is the chest X-ray. During this procedure, a comprehensive image of the chest area is captured. This includes the heart, lungs, ribs, and other chest structures. Chest X-rays are instrumental in diagnosing and monitoring conditions like pneumonia, lung cancer, and heart disease. They can also reveal fractures of the ribs or sternum.
X-ray imaging is a fundamental and widely used medical imaging technique that relies on the behavior of X-rays as they pass through the body's tissues. This method generates 2-dimensional images that are crucial for diagnosing various medical conditions, particularly in the fields of bone health and chest diagnostics.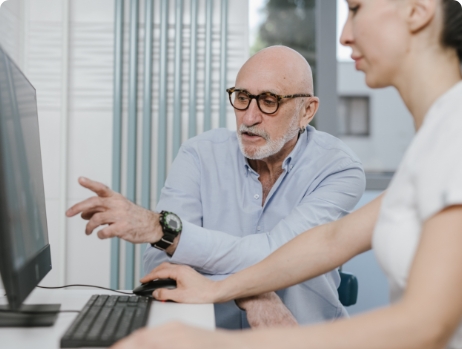 Find a clinic
We have 5 imaging clinics in Melbourne
Find a Clinic
Fees and billing
In most instances, we bulk bill to Medicare, but it is important to check with your individual clinic prior to your service
Fees & Billing