What is Fluoroscopy?
Fluoroscopy is a dynamic medical imaging technique that enables real-time visualisation of internal structures and processes within the human body. It is a versatile and valuable tool used in various medical specialties, offering continuous X-ray imaging that can capture moving images of organs, tissues, and medical procedures. This dynamic imaging capability has a multitude of applications and plays a pivotal role in various medical procedures, offering insights that static X-ray images cannot provide.
Fluoroscopy relies on X-rays, which are a form of electromagnetic radiation, to create detailed, live-action images of the body's interior. The X-ray machine emits a continuous, controlled X-ray beam that passes through the body part of interest, such as the digestive tract, blood vessels, or joints. A fluoroscope, which is essentially a specialised X-ray detector, captures these X-rays and converts them into real-time images on a monitor.
One of the primary functions of fluoroscopy is to facilitate a range of X-ray procedures, including but not limited to Barium Swallow, Barium Meal, Barium Enema, and Hysterosalpingography (HSG). Each of these procedures serves a unique diagnostic purpose, and fluoroscopy is instrumental in their execution.
For instance, during a Barium Swallow or Barium Meal, a patient ingests a contrast material known as Barium, which is visible under X-ray. The radiologist, utilising fluoroscopy, tracks the journey of this Barium solution in real time. This process allows for the dynamic examination of the esophagus, stomach, and intestines. Radiologists can observe how the Barium solution moves through these structures, helping to diagnose conditions such as swallowing disorders, gastrointestinal obstructions, or ulcers.
In the case of Hysterosalpingography (HSG), a different contrast material, usually iodinated, is injected through the cervix into the uterine cavity. Fluoroscopy then allows the radiologist to visualise the contrast material as it moves through the fallopian tubes. This procedure is commonly used in investigations of infertility to assess the patency of the fallopian tubes and identify potential blockages or abnormalities that may be contributing to fertility issues.
Fluoroscopy has a wide range of medical applications, such as gastrointestinal studies, cardiac procedures, orthopedics, vascular procedures, and pain management. The benefits of real-time, dynamic imaging make fluoroscopy an invaluable asset in the field of medical diagnostics and intervention.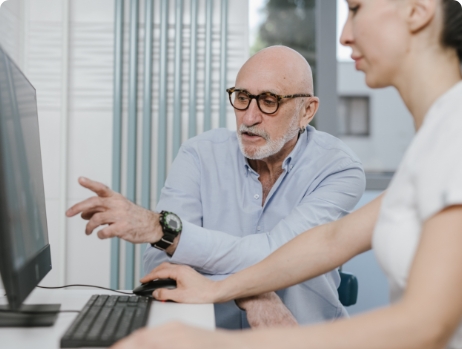 Find a clinic
We have 5 imaging clinics in Melbourne
Find a Clinic
Fees and billing
In most instances, we bulk bill to Medicare, but it is important to check with your individual clinic prior to your service
Fees & Billing