What is a CT scan?
A CT scan, short for Computerised Tomography, is a vital medical imaging technique that has revolutionized the field of diagnostic medicine. This advanced technology allows healthcare professionals to obtain detailed cross-sectional images of the human body, providing invaluable insights into a wide range of medical conditions.
CT scans utilise X-rays to create cross-sectional images or slices of the body. Unlike traditional X-rays that produce a single two-dimensional image, CT scans generate a series of detailed images from different angles around the patient's body. These images are then processed by a computer to create a three-dimensional representation of the scanned area.
A CT scan is a painless and non-invasive procedure. Patients typically lie down on a specialised table, which is designed to pass through the central opening of the CT scanner, resembling a large, doughnut-shaped machine. It's essential for patients to remain still during the scan to ensure the quality and accuracy of the images.
Inside the CT scanner, there's an X-ray source positioned opposite a detector. The source emits a narrow beam of X-rays that passes through the patient's body. As the X-ray source rotates around the patient, the detector records the amount of radiation that penetrates the body from various angles.
One of the key advantages of CT scans is their versatility. They can be used to diagnose and monitor a vast array of conditions, from bone fractures and lung diseases to cancerous tumors and internal bleeding. CT scans are particularly valuable for detecting abnormalities that may be missed by other imaging methods, making them an indispensable tool in the healthcare industry.
The data collected by the detector is sent to a computer, which processes it to create cross-sectional images or slices of the scanned area. These images provide detailed information about the internal structures of the body, including organs, bones, blood vessels, and soft tissues.
CT scans are a valuable medical imaging tool that rely on X-rays and computer technology to produce detailed cross-sectional images of the body. This non-invasive procedure is painless for patients and is commonly used in diagnosing a wide range of medical conditions. The addition of contrast agents can further enhance the clarity of the images, aiding healthcare professionals in providing accurate diagnoses and treatment plans.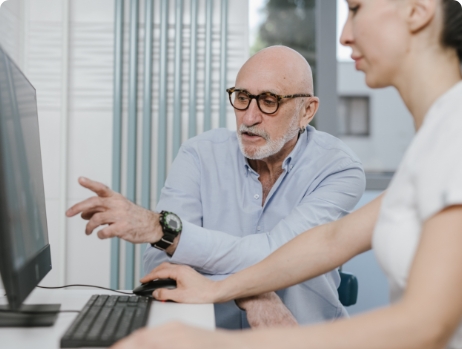 Find a clinic
We have 5 imaging clinics in Melbourne
Find a Clinic
Fees and billing
In most instances, we bulk bill to Medicare, but it is important to check with your individual clinic prior to your service
Fees & Billing