FMIG accepts Telehealth imaging requests by email or fax.
Download the editable pdf here - FMIG Request Form.
Attach completed pdf Request Form and email it to: request@fmig.com.au
Type the Patient NAME in the subject line of the email, for identification.
FMIG will contact the patient to confirm an appointment time.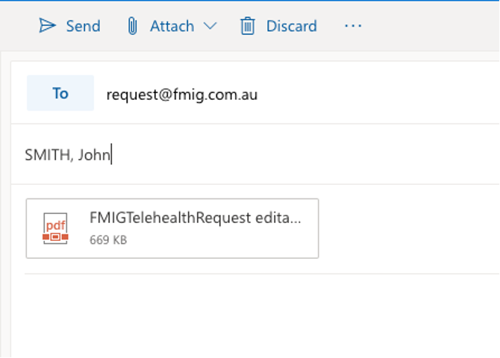 Practice Managers
The FMIG referral (RTF) for BEST PRACTICE

 integration is also available for upload to your medical practice software system (eg Best Practice, ZedMed, Medical Director); or email your request to request@fmig.com.au and the template file will be provided.
Standard referral forms (pdf file) can be downloaded here.
Order referral pads
Work with our Medical Liaison Officers to order more referral pads. 
Order Referral Pads
Send referrals straight from your project management software
We make it easy for practitioners and referring doctors to access patient images online. 
Referrals