What is a bone densitometry (DEXA/BMD) scan?
Bone densitometry, also known as bone density scanning or dual-energy X-ray absorptiometry (DEXA), is a specialised medical imaging technique used to assess bone health and the risk of osteoporosis. This non-invasive and painless procedure plays a pivotal role in the early detection, diagnosis, and monitoring of bone-related conditions, contributing significantly to the overall well-being of patients, particularly as they age.
Osteoporosis, a common and often asymptomatic condition, weakens bones, making them fragile and susceptible to fractures. Bone densitometry is a vital tool for evaluating bone density and strength.
During a DEXA scan, a low-energy X-ray is passed through the bones, typically the spine, hip, or forearm. The amount of X-ray energy that is absorbed by the bone is measured, allowing for the calculation of bone density, called T-score. This data is then compared to that in a younger person (e.g. 30 years old), and also with what is expected for a person of your age, sex and race. A lower T-score indicates lower bone density and a higher risk of fractures. Clinicians use this information to assess fracture risk and determine the need for preventive measures or treatment.
Bone densitometry is not only useful in diagnosing osteoporosis but also in tracking changes in bone density over time. This allows healthcare providers to assess the effectiveness of treatment and make informed decisions about ongoing care.
DEXA scans provide valuable information for personalised healthcare plans. By identifying individuals at risk for osteoporosis, clinicians can recommend lifestyle changes, dietary modifications, and, if necessary, medications to strengthen bones and reduce fracture risk.
Early detection and management of osteoporosis through bone densitometry can prevent fractures, which are often debilitating and life-altering. By preserving bone health, patients can enjoy a higher quality of life and maintain their independence as they age.
A DEXA scan is typically a quick and straightforward procedure, lasting approximately 15 to 20 minutes. Importantly, it involves the use of low doses of ionizing radiation, which are considered safe and do not pose significant health risks. The minimal radiation exposure is carefully controlled to ensure patient safety.
Bone densitometry is a crucial tool in the field of preventive medicine. By assessing bone density and fracture risk, DEXA scans provide essential information for healthcare providers to evaluate the risk of osteoporosis and related fractures. The procedure is safe, quick, and non-invasive, making it an essential component of preventive medicine and personalised healthcare.
This technology not only diagnoses osteoporosis but also serves as a cornerstone for personalised care plans, ultimately contributing to healthier, more active, and fulfilling lives for individuals of all ages.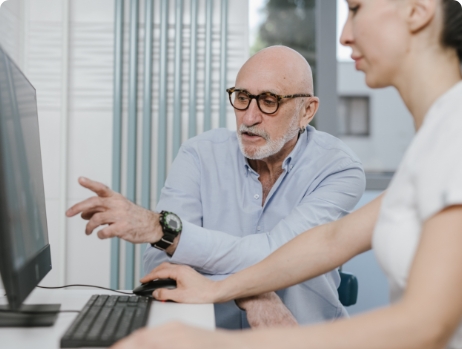 Find a clinic
We have 5 imaging clinics in Melbourne
Find a Clinic
Fees and billing
In most instances, we bulk bill to Medicare, but it is important to check with your individual clinic prior to your service
Fees & Billing