Focused ultrasound, also known as MRgFUS or HIFU, is an innovative neurosurgical platform which delivers ultrasound energy deep in the brain with incredible precision. This deliberately creates a small scar or lesion with no incisions. By focusing the ultrasound beams on a specific region of the brain, abnormal activation pathways that cause tremor or other neurological problems can be disrupted, frequently alleviating or dramatically reducing those symptoms.
The main indications are essential tremor, Parkinson's disease and pain. MRgFUS is often an alternative to open brain surgery, including deep brain stimulation and medications.
This procedure is carried out without anaesthetic or incisions. The neurosurgeon and neuroradiologist sit at a computer console in the MRI control room, using a computer and mouse instead of a surgical scalpel. The technique is known as Magnetic Resonance Guided Focused Ultrasound (MRgFUS).
This incisionless treatment option has mainly been applied to essential tremor and tremor-dominant Parkinson's disease patients and is also used in some centres to treat refractory chronic pain. The types of neurological conditions that can be treated with this advanced neurosurgery approach are growing.
Advanced hardware can produce ultrasound waves strong enough to penetrate the skull. State-of-the-art software and computerised surgical navigation technology modify the delivery according to individual skull shape and thickness. Up to 1,024 ultrasound waves precisely heat and ablate a deep brain target without the need for surgical incisions or manual manipulation of the brain. Because the anatomical targets are small and are often positioned amidst critical brain structures, treatment is guided by MR imaging. High resolution MRI provides detailed imaging, real-time thermal feedback and continuous treatment monitoring.
What are the benefits of focused ultrasound?
It is non-invasive, with lower risks and a shorter recovery time
It is carried out as a single treatment. Patients typically recover rapidly and quickly return to their usual daily activities - frequently within a day or two
Compared to a radiofrequency ablation or deep brain stimulation, focused ultrasound is less risky, offering a reduced risk of infection, collateral damage or bleeding
Focused ultrasound offers rapid resolution of symptoms. Other technologies such as Gamma Knife radiosurgery have a significant delay before clinical improvement is seen and deep brain stimulation requires regular programming of the electrical device, and either frequent recharging or further surgery to replace the battery when it expires
In contrast to stereotactic radiosurgery lesioning, focused ultrasound does not use radiation, thereby avoiding the side effects of radiotherapy
No anaesthetic is required, therefore patients with significant medical comorbidities are eligible for treatment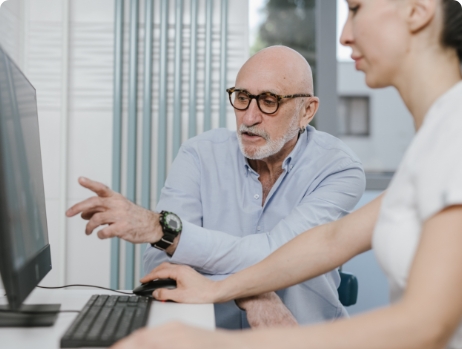 Find a clinic
We have 5 imaging clinics in Melbourne
Find a Clinic
Fees and billing
In most instances, we bulk bill to Medicare, but it is important to check with your individual clinic prior to your service
Fees & Billing